Chef Michelle Bernstein to open two pop-up eateries for Art Basel
South Florida Business Journal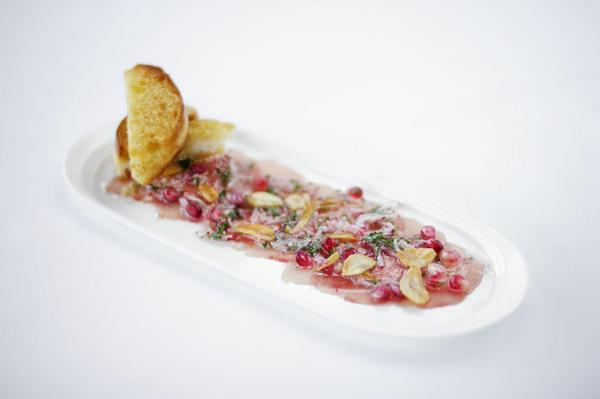 Tuna Carpaccio, which will be served at Michelle Bernstein's pop-up concepts coming to Art Basel.
Chef Michelle Bernstein will whip up two temporary restaurants for this year's Art Basel event.
Garden Cafe and Michy's Pop Up will be located at the Botanical Garden of the Miami Beach Convention Center at 2000 Convention Center Drive in Miami Beach during the event.
Garden Cafe is a casual concept that will open Dec. 1 through Dec. 7, from 1 p.m. to 6 p.m. on Dec. 1, 10 a.m. to 6 p.m. on Dec. 2 and Dec. 7 and 10 a.m. to 8 p.m. on Dec. 3 through Dec. 6. The menu includes salads, sandwiches and grilled dishes.
Michy's Pop Up will be more refined, with selections like fish fumet and Michy's Bread pudding. The restaurant will open Dec. 3 to Dec. 6 from 6 p.m. to 11 p.m. Reservations are required and can be made at michyspopup.com.
For private events during Art Basel, Bernstein and her team will also offer exclusive catering opportunities for groups from 6 to 100 people.
Started in 1970, Art Basel is recognized as a premier international showcase for artists from around the world. The event runs from Dec. 4 through Dec. 7 and is expected to draw about 75,000 attendees.
Back to Blog